Just Blue zet je in beweging!
Het is niet meer vanzelfsprekend dat mensen 40 jaar bij hetzelfde bedrijf werken. Je organisatie is altijd in beweging. De balans tussen werk en privé is steeds belangrijker. Leven veranderende gebeurtenissen zoals trouwen, kinderen, mantelzorgen etcetera zorgen voor andere wensen in werk. Daarnaast hebben we te maken met een vergrijzende arbeidsmarkt. Hoe zorg je er voor dat de ziel niet uit je bedrijf gaat als mensen met pensioen gaan. Zij zijn je bedrijfskapitaal. Kortom; de wereld is in beweging, en daarmee de wensen van je mensen. Wil jij ook minder verzuim, gelukkige medewerkers en zo een gezond bedrijf? Ben jij klaar voor een duurzaam personeelsbeleid? Blue regelt het!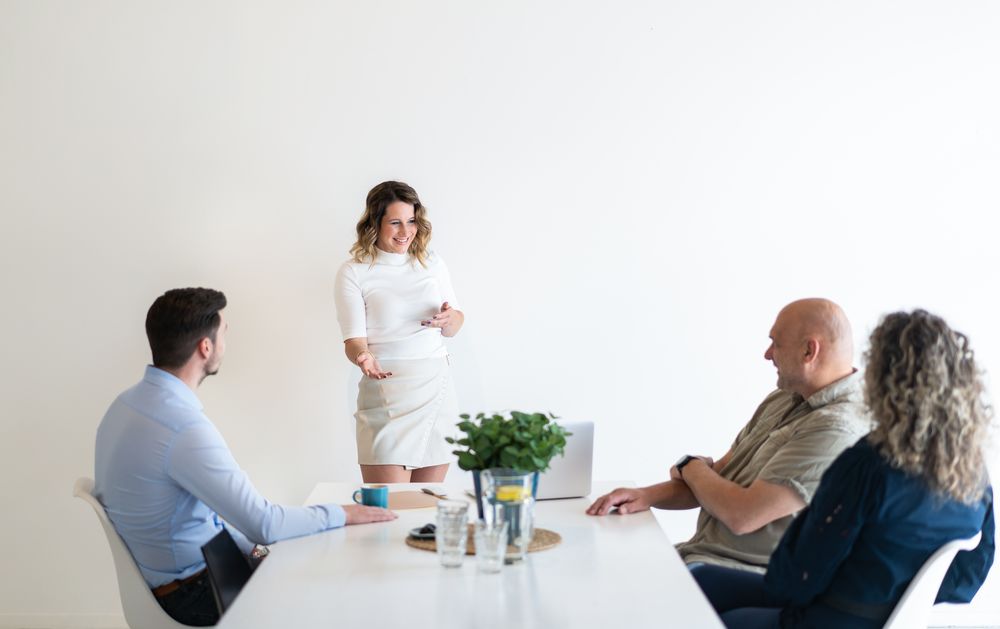 Alles wat aandacht krijgt, groeit
Blue heeft aandacht. Voor de mens binnen je bedrijf. Voor jouw bedrijfsdoelen. Voor het totaal. Zo komt ze tot plannen die hout snijden, die leiden tot blijvende resultaten, waarbij de mens niet wordt vergeten. Mensen zijn je grootste kapitaal. Hen ambassadeur van je bedrijf maken levert veel voordelen op. Het leidt tot minder verzuim, meer klantgerichtheid, en dat leidt tot duurzame groei.
Blue staat naast de supervisor/teamleider/afdelingshoofd. Dicht bij de werkvloer dus, met een korte communicatielijn naar de directie. Om snel te kunnen schakelen, de grote lijn te blijven zien, maar wel met de voeten in de klei, want op de werkvloer gebeurt het.
Blue:
focust op het verzorgen en verbeteren van de in-, door- en uitstroom van je personeel
maakt een passende resource planning
is aanspreekpunt voor managers en de teamleider
coördineert en regisseert werving- en selectie events
zorgt voor een soepele en tijdige onboarding/ warm welkom voor nieuwe medewerkers
Shayenna van Delft
Adviespartner jong talent
Helaas heb ik maar een korte tijd samengewerkt met Blue. Het contact was altijd super fijn, want zij is snel én accuraat. Het is duidelijk dat Blue weet waar ze het over heeft. Verder ook niet onprettig; Blue neemt ook tijd voor het persoonlijke! Al met al een heel prettig contactpersoon, vast net zo goed als collega!
Noemi Bocanegra Hurtado​
Catering Manager at Allseas​
I had the pleasure to work with Blue. I say pleasure, because she has been one of the strongest leaders I ever had. Good listener, she will always be there to support her team.
María Enríquez Martínez
Offshore Catering Manager Allseas
Blue is a talented and resourceful HR manager with exceptional interpersonal skills. She is always willing to listen to our needs and manage her resources to accomplish goals. I highly recommend working with a professional like Blue.
Pieter Guijt
Project Secretarial Services bij ALLSEAS
Blue is a nice college to work with, she is driven to perform and is always willing to walk that extra mile. She really knows how to stimulate people and get the best out of them. She is able to manage her work and team, even in challenging or understaffed situations. Blue feels responsible for her job and wellbeing of her team members and other colleges. She owns a sharp observation and is able to give to the point, but friendly feedback to people in order to make them grow.
Nicolas Andre
Project Consultant bij Unique Career Belgium
Ik ben Blue enorm dankbaar voor het geloof in mij. Over de maanden heen ben ik beter geworden in mijn werk omdat ze mij daarin pushte en in mij geloofde. Ik ben oprecht een beter persoon geworden. Vaak wordt gevraagd op een sollicitatiegesprek wat je van een leidinggevende verwacht en wanneer ik ooit die vraag opnieuw krijg dan zal jij een moeilijke maatstaf zijn om te verbreken. Ik ben ervan overtuigd dat jij nog een geweldige carrière tegemoet gaat want jij bent een echte powervrouw!
Alissa Van Gansen​
Project Consultant bij Unique Career Belgium​
As a project consultant, I have already seen a couple of different managers and never have I seen a leader, with the professionalism, enthusiasm and people management skills such as Blue. She is hard-working and always keeps an open door for her team. She is a very kind and empathetic leader who understands the different needs of each person.
Jeroen Breukels
Unit Head Innovations at AllseasMarch
Blue manages to combine professional leadership with a keen eye for personal relationships. She works relentlessly to allow the people reporting to her to perform at their best, whilst creating a safe and inspiring work environment. Blue has extensive experience cooperating with people of different backgrounds and disciplines. She really tends to bring people together while also securing excellence in performance. It has been a pleasure to work with Blue here at Allseas.
Els Geven
Manager project Blue
Blue shows in her position of Unit Head the skills of being a positive minded, constructive leader with resilience. She is is eager to learn, open to constructive feedback and a team player. She is willing to take up tasks that are not directly in her scope and she goes the extra mile to get the work done for the team and the department. Next to her professional approach Blue is also covering the human factor of being a professional; listening to persons struggling and helping and following up on them. She is very approachable and likes a joke every now and then. Blue is a true asset to the team!
Ron Vogelaar
Unit Head Financial Accounting bij AllseasUnit
I had the pleasure of following a training trail together with Bleu. During this training I got to know Bleu as an honest person with clear norms and valies. I liked to spar with her about various matters.
Jérôme Schmid
Executive Assistant at Kolibrie HRM
Beste Blue, in de tijd dat we intensief hebben samengewerkt, heb ik je leren kennen als eager, slim, effectief en constructief. Jij hebt de recruitment meer vorm gegeven en daarmee een belangrijke kwaliteitsslag gemaakt. En dankzij jouw gezonde dosis humor had ik hier al helemaal geen seconde van willen missen! Je bent ècht een aanwinst en gelukkig heb ik met je mogen samenwerken!